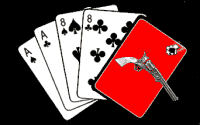 On this date in 1876, Wild Bill Hickok was killed, shot dead from behind by Jack McCall while playing poker. He held a pair of aces & a pair of 8s, forever giving that combination the nickname "Dead Man's Hand."
Poker has come a long way since then, becoming a global multi-million dollar industry. There's a good discussion over at World Magazine Blog, asking where parents should "draw the line," given the rising popularity of poker among youth.
This story from CBS's Morning Show last year profiled a mom who hosts poker nights for her son and his friends. Liz Perry says the kids are "having a great time. They're …home. They're not out on the street. They're all great students great athletes and at night, this is a great way for them to hang out with each other and be with each other."
Christian responses to gambling, card playing, and other games of chance vary, from the moderately permissive to the prohibitionist. Social conservative groups worry about the effect of gambling on young children. Keith Whyte, who runs the National Council on Problem Gambling, says "for most kids, gambling if they choose to engage in it will not be harmful. But for a percentage, four to six percent of kids will develop a serious gambling problem." Some advocate greater government regulation and/or prohibition of gambling, saying that to do otherwise is to implicitly endorse the practice.
I would assert that governments should logically first cease the active promotion of gambling (via lotteries) before they take greater measures to restrict or discourage other forms of gambling. I just can't see a substantive difference between spending money on the Mega Millions jackpot and having a night of poker with friends…except that the former is essentially a regressive tax promoted by the government.