ARMAVIRUMQUE passes along an excerpt from an article posted yesterday by The New Republic, "The Killing Machine," by Alvaro Vargas Llosa. The article is about Che Guevara, and the famous photograph that "thirty-eight years after his death, is still the logo of revolutionary (or is it capitalist?) chic."
Llosa interviews Javier Arzuaga, a former Catholic priest, self-described as "closer to Leonardo Boff and Liberation Theology than to the former Cardinal Ratzinger." Arzuaga's relates the following:
there were about eight hundred prisoners in a space fit for no more than three hundred: former Batista military and police personnel, some journalists, a few businessmen and merchants. The revolutionary tribunal was made of militiamen. Che Guevara presided over the appellate court. He never overturned a sentence…. I pleaded many times with Che on behalf of prisoners. I remember especially the case of Ariel Lima, a young boy. Che did not budge.
For more about Guevara, check out ARMAVIRUMQUE for a link to a story in The New Criterion, "The real Che," by Anthony Daniels.
You may also recall the recent Hollywood release, The Motorcycle Diaries, examined in part in an Acton Commentary by Bruce Edward Walker, "Scary Movie: Hollywood Humanizes the Despot." Walker writes that the film is "frightening in its attempts to humanize the South American ideologue and revolutionary Ernesto 'Che' Guevara. The film is an attempt to validate the Communist ideology as a cure for the diseases of poverty and illness and as a substitute for the religion that is, in the film's depiction, petty and ineffective."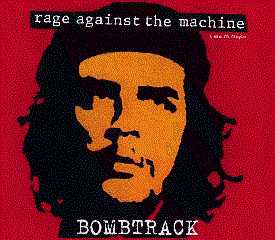 So we see the irony of a rabid Communist like Che Guevara becoming a pop culture icon, so that, in the words of Llosa, "His likeness adorns mugs, hoodies, lighters, key chains, wallets, baseball caps, toques, bandannas, tank tops, club shirts, couture bags, denim jeans, herbal tea," and more. Whence comes this contradiction?
As I commented in a relevant blog post over at Brad Warthen's Blog, some of the contemporary appeal can be linked to the popularization and idolization of Guevara by Zack de la Rocha and the group Rage Against the Machine. Their music is featured in The Matrix movies, and they are perhaps most famous for their subversive politics and revolutionary ideology. The group was formed in 1990 and broke up in 2000, a decade in which their popularity peaked, influencing a generation of pop culture.